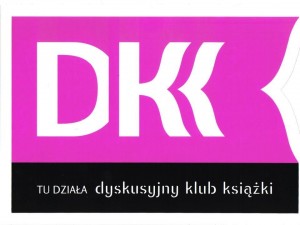 Co to jest Dyskusyjny Klub Książki?
Grupa osób, które spotykają się aby porozmawiać o książkach
Dyskusyjne Kluby książki to wspólny projekt Instytutu Książki i Bibliotek Wojewódzkich adresowany przede wszystkim do czytelników korzystających z bibliotek publicznych.
Pomysł oparty jest na założeniu, że potrzebne są miejsca, w których można rozmawiać o wspólnie czytanych książkach oraz, że nie trzeba być krytykiem, by czerpać przyjemność z dyskutowania o literaturze. Celem klubów jest także ożywienie środowisk skupionych wokół bibliotek oraz zachęcenie samych bibliotekarzy do kreowania mody na czytanie.
Jeśli lubisz czytać książki.
Jeśli lubisz o nich rozmawiać.
Jeżeli chcesz zapoznać się z nowymi
autorami i gatunkami literackimi
przyjdź na spotkanie ! ! !
Więcej informacji na temat Dyskusyjnego Klubu Książki dla dorosłych można uzyskać pod nr tel. 58 536 33 43