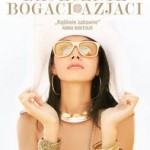 Luksusowy prywatny odrzutowiec z ajurwedyjskim studio jogi i spa na pokładzie, studwudziestometrowy jacht wyposażony w salę balową, salon karaoke, kasyno, bar sushi, dwa baseny i kręgielnię, pełne przepychu posiadłości z ogrodami wielkości całej dzielnicy, ubrania wartości kilku mieszkań w Paryżu…
Majątek Carringtonów? Nie, to drobiazgi należące do pewnego starego azjatyckiego rodu, którego bajkowe życie przypomina Dynastię na sterydach: wszystko jest tu większe, wspanialsze, droższe i egzotycznie piękne.
Czy w takiej scenerii i w otoczeniu takich ludzi może odnaleźć się ktoś spoza elity?
To pytanie musiała zadać sobie Rachel Chu, która nieopatrznie zgodziła się na wyjazd ze swoim chłopakiem Nickiem do jego rodzinnego Singapuru. Nie spodziewała się, że trafi do gniazda bajecznie bogatych os, które tylko czyhają na jej pomyłkę i marzą o usidleniu Nicka.
Źródło opisu i okładki: www.empik.pl