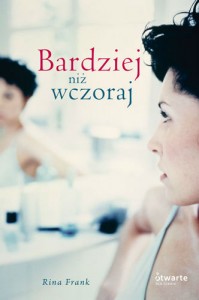 "Posłałam mu wiadomość − zdanie, które codziennie mi powtarzał: »Kocham Cię bardziej niż wczoraj i mniej niż jutro«".
Rina ma dom z balkonem, dorosłe dzieci i kochającego partnera. Niespodziewanie na jej drodze pojawia się Erez Green, świetny chirurg i niezwykle pociągający mężczyzna. To spotkanie burzy jej spokojne i ustabilizowane dotąd życie.
"Bardziej niż wczoraj" to poruszająca opowieść o desperackiej potrzebie miłości.
Rina Frank urodziła się w 1951 roku w najuboższej dzielnicy Hajfy − Wadi Salib. Pracowała jako inżynier, specjalistka do spraw marketingu i producentka telewizyjna. Jest najpopularniejszą pisarką izraelską swego pokolenia. Jej literacki debiut "Każdy dom potrzebuje balkonu" stał się międzynarodowym bestsellerem. "Bardziej niż wczoraj" to druga powieść tej autorki.
Źródło opisu i okładki: www.empik.pl