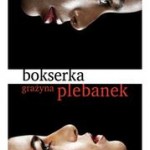 Dwie przyjaciółki, bokserki: warszawianka Lu, bokserka amatorka, pracuje w polskiej ambasadzie w Brukseli. Sprite, jej sportowa mentorka i powierniczka jest Belgijką pochodzenia kongijskiego. Poznają się w Brukseli, razem walczą na ringu, wspólnie snują opowieść. Ich historia stwarzana jest w trakcie opowiadania powierzonego przyjaciółce. Przyjaźń i boks to źródła siły dla Lu i Sprite. Więź między młodymi kobietami stanowi oś opowieści, w której romanse, miłości i zauroczenia są tłem dla budowania mocnych osobowości, własnej przestrzeni, z której nie strach wyruszać w świat.
To historia poprowadzona z impetem, energetycznie i świadomie. Dotyka współczesnych problemów, takich jak miejsce dzisiejszej Polski w Europie, stereotypy i uprzedzenia, z jakimi się spotykamy i które utrwalamy. Opisuje pozytywne postawy wobec Polaków, jak i Polaków wobec "obcych", ale obnaża też polski rasizm.
"Bokserka" to portret pokolenia ludzi, dla których podróżowanie i mieszkanie za granicą nie jest "zdradą ojczyzny", dla których mobilność jest równie naturalna, jak korzystanie z Googla, czy sieci społecznościowych. To także kalejdoskop barwnych mieszkańców położonej w centrum Europy Brukseli, reprezentantów różnych kultur, światopoglądów, narodowości, kolorów skóry.
Źródło opisu i okładki" www.empik.pl