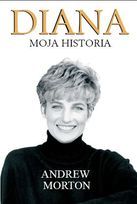 O księżnej Walii opublikowano setki książek, biografie oparte głównie na plotkach i żalach służby, ilustrowane zdjęciami zrobionymi przy przez paparazzich. Istnieje jednak tylko jedna prawdziwa biografia księżnej Diany – ta, w której powstawaniu, w tajemnicy przed wszystkimi, ona sama brała udział. To jest właśnie ta książka…
"Diana. Moja historia" to biografia opierająca się na zarejestrowanych na kasetach magnetofonowych wywiadach, które księżna Walii przekazała w sekrecie Anrew Mortonowi w czasie kryzysu małżeńskiego, ilustrowana unikalnymi kolorowymi fotografiami z prywatnego albumu królowej serc.
Wstrząsający światowy bestseller, pokazujący prawdziwe życie tragicznie zmarłej Diany, który zmienił królewską rodzinę na zawsze.
"Bardzo rzadko biografie królewskie pełnią tak decydującą rolę w życiu poddanych" Anthony Holden, DAILY MAIL
"Najlepiej udokumentowana i miarodajna książka o rodzinie królewskiej, jaka kiedykolwiek powstała" Sunday Times
"Nowoczesna klasyka, książka, która zmieniła życie tych, którzy byli jej bohaterami" David Sexton, London Evening Standard
"…wiarygodny, intrygujący, lecz także alarmujący portret 'ostatniej ikony dwudziestego wieku" Lynn Barber, Daily Telegraph
Źródło opisu i okładki: www.empik.pl