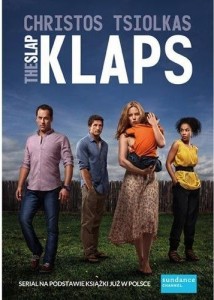 Willa na przedmieściach. Grupa przyjaciół spotyka się przy grillu. Jeden z gości wymierza klapsa dziecku znajomych.
Ten pozornie błahy gest odbija się rykoszetem w życiu uczestników przyjęcia. Bezpośrednio lub pośrednio zaczyna wpływać na ich dalsze życie…
Tym razem Christos Tsiolkas kieruje swoje przenikliwe, wszechwidzące spojrzenie na coś, co jest wspólne nam wszystkim: życie rodzinne w nowoczesnej rzeczywistości XXI wieku.
Klaps to niepokojąca opowieść o miłości, seksie i małżeństwie, o rodzicielstwie i dzieciach. Opowieść gniewna i intensywna, tak pełna namiętności i sprzecznych przekonań, jak tylko może być życie rodzinne. Książka Tsiolkasa to wnikliwa analiza aspiracji i lęków, a zarazem przejmująca, prowokująca powieść o naturze lojalności i szczęścia, kompromisu i prawdy.
Źródło opisu i okładki: www.empik.pl