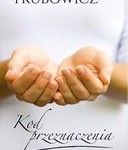 Kiedy myślisz, że wszystko już stracone, okazuje się, że ktoś wyciąga do ciebie pomocną dłoń. Nie zastanawiaj się – chwytaj i trzymaj ile sił.
Ona – kelnerka w przygranicznym barze, on – drobny przemytnik. Jedna krótka wiadomość sprawia, że nie mogą o sobie zapomnieć. Przez jeden zwitek papieru szukają siebie nawzajem. Czy odnajdą się wśród prozy życia? Sprawdź, jak może ułożyć się życie młodych ludzi, którzy praktycznie pozostawieni samym sobie starają się o lepszą przyszłość.
To nie jest kolejna książka o miłości, to książka o zaufaniu, nadziei i dobru, które może nas spotkać w najmniej oczekiwanym momencie. Podnosi na duchu i nastraja na pozytywne rozwiązanie każdego problemu, bo przecież jak mawiała matka Adama: "Bóg nie daje ludziom więcej cierpienia niż są w stanie udźwignąć…".
Źródło opisu i okładki: www.empik.pl