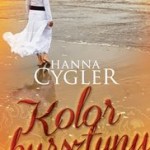 "Kolor bursztynu" autorstwa Hanny Cygler to powieść obyczajowa o miłości z ciekawym wątkiem sensacyjno-kryminalnym w tle.
Nela Lisiecka pracuje w muzeum regionalnym. Ma za sobą nieudane małżeństwo, dwójkę dzieci na utrzymaniu i ledwo wiąże koniec z końcem. Nie może zapomnieć o miłości swojego życia, Wiktorze, którego śmierć postanowiła pomścić trzy lata wcześniej… Kiedy w sali, gdzie znajduje się kolekcja bursztynów, pojawia się mężczyzna, którego Nela podejrzewa o udział w zamordowaniu ukochanego mężczyzny, akcja nabiera tempa, a śledztwo na własną rękę zaczyna przynosić nieoczekiwane rezultaty.
"Kolor bursztynu" to opowieść o bursztynowej rzeczywistości Gdańska, gdzie piękno wytwarzanej biżuterii to pogoń za zyskiem. I to bez względu na wszystko.
Źródło opisu i okładki: www.empik.pl