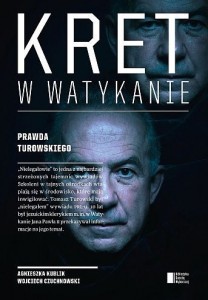 Historia PRL-owskiego "nielegała", który jako jezuicki kleryk inwigilował watykańskie otoczenie Jana Pawła II
"Nielegałowie" to jedna z najbardziej strzeżonych tajemnic wszystkich wywiadów świata. Często są to ludzie zwerbowani – tak jak bohater tej książki – we wczesnej młodości, szkoleni w tajnych ośrodkach i wysyłani za granicę. Tam nie od razu przystępują do działania. Nawet kilka lat pozostają "w zamrożeniu", wtapiając się w środowisko, które mają inwigilować. W razie wpadki kraj, który ich wysłał, nie przyznaje się do nich. Dopiero później, w trakcie dyskretnych wymian schwytanych szpiegów, mają szansę na powrót do kraju. Ale gwarancji nie ma.
Tomasz Turowski przez szesnaście lat był "nielegałem" wywiadu PRL-u. Dziesięć z tych szesnastu lat spędził za granicą jako kleryk w zakonie jezuitów. Przeszedł przez Rzym i Watykan, stykając się z papieżem Janem Pawłem II i przekazując do centrali informacje na jego temat. Na początku lat 90 przeszedł pozytywnie weryfikację i jako polski dyplomata miał witać prezydenta Lecha Kaczyńskiego na lotnisku w Smoleńsku 10 kwietnia 2010 roku.
Źródło opisu i okładki: www.empik.pl