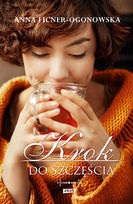 Jeszcze tylko jeden krok do szczęścia!
Krok do szczęścia to mądra i pełna ciepła opowieść o tym, że życie nigdy nie przestaje nas zaskakiwać i że nic nie dzieje się bez przyczyny. We wszystkim znajduje się ziarenko dobra, wystarczy je tylko dostrzec i zrobić ten pierwszy krok.
Hania przygotowuje się do ślubu Dominiki. Ten radosny czas przywołuje wspomnienia z jej własnego ślubu i tragedii, która wydarzyła się następnego dnia. Dzięki miłości i wsparciu pani Irenki, Dominiki i Mikołaja Hania wreszcie odważy się wrócić myślami do tamtych dni, nie po to jednak, by rozpamiętywać stratę, ale by pogodzić się z tym, że życie płynie dalej. Mikołaj zaś odkryje, że najtrudniej jest rywalizować ze wspomnieniami Hani o nieżyjącym mężu i że walka o jej uczucie jeszcze się nie zakończyła.
Na światło dzienne wychodzi w dodatku rodzinna tajemnica z przeszłości. Niespodzianki zaczynają się mnożyć. Wkrótce w życiu Hani pojawi się bliska osoba, o której istnieniu nie miała dotąd pojęcia i przez którą musi na nowo zbudować obraz własnej rodziny.
Źródło opisu i okładki: www.empik.pl