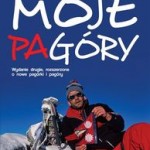 Pasjonujący zbiór autentycznych opowieści o podróży, wspinaniu i przyjaciołach. To także szereg górskich anegdot, nieprawdopodobnych wydarzeń i pouczających doświadczeń. W miarę zagłębiania się w lekturę zauważymy, że jest to również zapis jeszcze jednej podróży – tej najważniejszej – przez życie, zapis doświadczeń całego pokolenia, które w latach osiemdziesiątych i dziewięćdziesiątych dorastało i zaczynało rozglądać się po świecie.
Tak to wyraża sam autor:
Zrozumiałem, że odkrywanie świata to jedna z tych ważnych życiowych przygód, których nie można przegapić i których nigdy nie wolno odkładać na później. Dzięki temu kilka razy urodziłem się na nowo.
Nowe wydanie zostało wzbogacone o ponad 100 stron ciekawych opowieści, w tym obszerny rozdział o barwnych przypadkach związanych z organizacją kultowej już imprezy – Przeglądu Filmów Górskich w Lądku Zdroju.
Źródło opisu i okładki: www.empik.pl