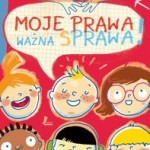 Ta książka uzmysławia dzieciom, jakie są ich prawa, obowiązki i przywileje. O niektórych zapewne wiedzą, niektóre dopiero poznają dzięki tej książce. Ważne, aby zrozumiały. Dlatego pisarki – Anna Czerwińska-Rydel i Renata Piątkowska – stawiają na sytuacyjne przedstawienie kolejnych reguł znanych z Konwencji o Prawach Dziecka. Tłumaczą je cierpliwie ustami bohaterów – rodziców, dziadków, znajomych pań z ławeczki w parku.  Wiele z opisanych historii nie wymaga pointy – ta nasuwa się małemu czytelnikowi sama. I to ogromny atut tej książki.
Jest tu miejsce na powagę, chwilę refleksji, ale i na uśmiech. Przecież mówiąc o poważnych sprawach, nie trzeba zachowywać śmiertelnej powagi.
Konwencja o Prawach Dziecka mówi o wielu trudnych sprawach, o pracy zarobkowej dzieci, o złym dotyku, biciu. Sztuką jest nie przestraszyć tymi tematami, lecz przekonać najmłodszych i ich opiekunów do otwartej rozmowy. Autorkom tego zbiorku się to udało.
Źródło opisu i okładki: www.empik.pl