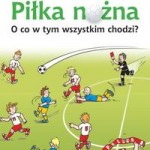 Oczywiście, że znasz się na piłce nożnej! Wiesz, co to jest spalony, rzut wolny pośredni i kiedy zawodnik powinien zobaczyć żółtą kartkę. Korner, wślizg i drybling nie mają przed tobą żadnych tajemnic. Jednym tchem potrafisz wymienić nazwy największych stadionów i nazwiska popularnych piłkarzy. Ale czy na pewno wiesz wszystko o futbolu?
Dowiedz się:
•    Jakie wymiary musi mieć boisko dostosowane do rozgrywek Euro.
•    Czy łatwiej strzelić gola z ataku szybkiego czy pozycyjnego.
•    Co to są stałe fragmenty gry i ilu sędziów czuwa nad prawidłowym przebiegiem meczu.
•    Czym wsławił się bramkarz Jack Robinson i która drużyna sprawiła kibicom największą niespodziankę na Mistrzostwach Europy w Piłce Nożnej w 1992 roku.
W tej książce znajdziesz wiele informacji i ciekawostek o futbolu.
Źródło opisu i okładki: www.empik.pl