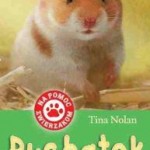 Zgubione… porzucone… zaniedbane? Odtąd ich domem będzie "Cichy kąt"!
W idealnym świecie takie miejsce jak schronisko "Cichy kąt" nie byłoby potrzebne. Jednak Ewa i Karol Mareccy, których rodzice prowadzą schronisko, wiedzą, że w życiu nie zawsze jest idealnie. Codziennie zjawia się nowe zwierzę, które potrzebuje pomocy!
Puchatek, porzucony chomiczek
Ewa znajduje w śmietniku w sklepie ogrodniczym dziadka porzuconego chomika. Postanawia za wszelką cenę dowiedzieć się, kto mógł w tak okropny sposób potraktować zwierzątko. Ewa podejrzewa, że zrobiła to niemiła dziewczynka Kasia, która niedawno przeprowadziła się do ich miejscowości z innego miasta. Czy Ewie uda się udowodnić, że to właśnie Kasia pozbyła się chomika, którym już się znudziła?
Źródło opisu i okładki: www.empik.pl