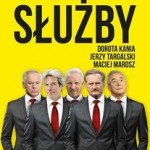 Kolejny tom głośnej książki Doroty Kani, Jerzego Targalskiego i Macieja Maroszy. Autorzy po raz kolejny udowadniają kto pociąga za sznurki w III RP.
Książka, która odkrywa prawdę i rzuca nowe światło na służby komunistyczne, a raczej ich bliskie związki ze strukturami III RP. To opowieść o interesach ludzi z bezpieki, którzy umacniali władzę ludową, wspierali socjalizm, by wreszcie po "grubej kresce" stać się zakulisową siłą sprawczą w demokratycznym państwie. Demaskatorska pozycja ujawniająca sekrety tych, którzy zaczęli służyć nowej władzy. O ich znajomościach, koneksjach, koligacjach i bardzo często podejrzanych interesach, w których nigdy nie zapominali o protekcji.
"Resortowe dzieci. Tom 2. Służby" to prawie 1000 stron rzetelnie zebranych faktów o ludziach służących obydwu systemom.
Źródło opisu i okładki: www.empik.pl