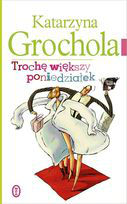 "Trochę większy poniedziałek" to zbiór felietonów Katarzyny Grocholi na każdy dzień tygodnia, na każdy miesiąc, na każdą pogodę i porę roku.
Tym razem uwielbiana przez wszystkich pisarka zabiera nas w literacką podróż pełną cudownych chwil, niespodzianek i życiowych wskazówek. Autorka, z dużą dozą ciepła i wdzięku, a także z przymrużeniem oka, opisuje świat i ludzi. Podpowiada czytelnikom, jak żyć w zgodzie ze sobą samym, pokazuje magię codzienności i uświadamia, czym tak naprawdę są bliskość i prawdziwa miłość. I co najważniejsze – udowadnia, że wszystko zależy od nas, a szczęście jest na wyciągnięcie ręki.
"Trochę większy poniedziałek" to mądra książka, po którą warto sięgnąć, by poczuć, że życie jest piękne nawet wtedy, gdy jest nam źle.
Katarzyna Grochola to pisarka, która potrafi zaskoczyć! Królowa polskiej powieści obyczajowej zmierzyła się już z autobiografią, zaprezentowała jedyny w swoim rodzaju literacki dialog z córką, a w ostatniej książce wcieliła się w mężczyznę! Kiedy wydawało się, że autorka powróci do pisania powieści, do rąk czytelników trafia zbiór błyskotliwych opowieści.