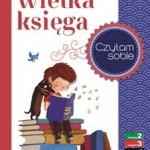 Wielka księga. Czytam sobie to zbiór 6 opowiadań do samodzielnego czytania przez dziecko. Zagadka skarbu Arubaby, tajemnica walizki Hanumana, trop detektywa Tytusa, to tylko część przygód, które czekają na małego początkującego czytelnika. Czytam sobie to trzypoziomowy program wspierania nauki czytania dla dzieci w wieku 5-7 lat. Bo radość czytania to bakcyl, którym naprawdę warto się zarazić!
Źródło opisu i okładki: www.empik.pl
W Wielkiej księdze znajdziesz:
"Maja na tropie jaja" Rafała Witka
"Tadek i spółka" Joanny Olech
"Skarb Arubaby" Małgorzaty Strzałkowskiej
"Tytus – superpies" Joanny Olech
"Walizka Pana Hanumana" Rafała Witka
Oraz "Świąty Mikołaj" Agnieszki Tyszki
Czytaj dziecku kiedy jest małe.Wspieraj je kiedy uczy się czytać.Zacznie czytać samo.To jego sukces, Twoja radość i początek wspaniałej podróży.
Wielkie księgi to zaproszenie do czytania. Czytajmy dzieciom, czytajmy z dziećmi, rozmawiajmy  z dziećmi o książkach kiedy już czytają same.