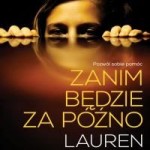 "Zanim będzie za późno" to znakomity debiut Lauren Frankel. Przejmująca historia dziewczynki na skraju załamania nerwowego oraz matki, starającej się ze wszystkich sił jej pomóc.
Trzynastoletnia Callie zostaje oskarżona przez koleżankę o agresywne zachowanie. Znając łagodny charakter córki, Rebecca jest przekonana o jej niewinności. Kiedy Callie zostaje oczyszczona z podejrzeń, koleżanka przysyła jej rozpaczliwe wiadomości z pogróżkami. Mając w pamięci własne nastoletnie dramaty, matka Callie interweniuje i próbuje pomóc dziewczynie. Wspomina czas, kiedy jej brak zrozumienia wobec bliskich doprowadził do tragedii. Pragnie zrobić wszystko, aby teraz historia miała szczęśliwe zakończenie. Jednak Rebecca nie wie o wszystkim, nie wie, kto jest prawdziwą ofiarą i nie zdaje sobie sprawy, że Callie jest w ogromnym niebezpieczeństwie.
Lauren Frankel doskonale opisuje złożoną naturę nastolatek i emocje towarzyszące dorastaniu. Jej opowieść to odważne spojrzenie na najgorsze ludzkie instynkty oraz okrucieństwo społeczeństwa.
"Niepokojąca i trzymająca w napięciu debiutancka powieść Frankel pokazuje trudy dorastania, okrucieństwo społeczeństwa i to, jak mało wiemy o naszych dzieciach."
"People"
Źródło opisu i okładki: www.empik.pl