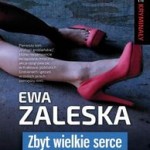 Reakcją na śmierć bliskiej osoby są pytania. I choć mogą mieć one charakter psychologiczny, filozoficzny lub religijny, rozpoczynają się zwykle tak samo, od "dlaczego"?
Anna była psychologiem na pełne dwa etaty, oprócz tego żoną, córką, siostrą i wolontariuszem. Nikt z nich nie znał całej prawdy o niej i jej życiu, nikt nie został wtajemniczony w mroczne sekrety wypełniające jej zbyt wielkie serce. Dlaczego musiała umrzeć?
Czy Grzegorz, mąż Anny, zrobi wszystko, żeby poznać powód jej śmierci? A może ruszy do przodu i swoja uwagę poświęci córce, Annie.  Czy ta ostatnia mogła mieć coś wspólnego ze śmiercią jego drugiej żony?
Wkrótce patomorfolog odkrywa w ciele Anny benzedrynę. Czyżby to ona spowodowała zgon… a może było to coś zupełnie innego?
Źródło opisu i okładki: www.empik.pl